NEXT MEETING:  Details to follow for our January 2024 meeting.
Enjoy the holiday season.
At the March 2022 meeting, Darlene Prescott was elected President, and Sonia Hernandez was elected Finance Officer.  The Branch thanks Linda McLeod and Delia Stephens for their years of service in these roles.
---
Past Events
The Branch's Sonia Hernandez organized, on October 29, el Dia de los Muertos celebration.  This day is commemorated annually around the Hispanic world.  It is more a joyful event that involves family and friends gathering to pay respects and to remember those who have died.  Some of us brought photos our loved ones who have passed–to be displayed.  There was, of course, delicious food and drink.  And Pancho Claus (Richard Reyes) made a visit.  Pancho Claus has been donating his time and efforts for over 40 years in the Hispanic communities of Texas.  Mr. Reyes is featured in the December 2023 issue of the Texas Highways magazine.  Muchas gracias, Sonia, for an eventful occasion.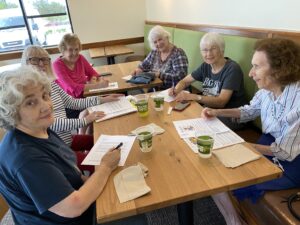 Some of the Branch members met up on October 27 to sign letters to our congressional representatives–sending copies to the President and Vice-President.  In the letter, we expressed our support for the Equal Rights Amendment (ERA)–an existential amendment for the well-being of women.  Texas, along with 37 other states, have ratified the amendment, but with the current political climate in the state, as well as in other states, there is an unhealthy trend of taking away rights from women.  We expressed our urgency that affirming the ratification of the amendment was now crucial.  We reminded the politicians that a majority of citizens (men and women) surveyed support the ERA.  In 2013 the National Archives called the ERA "the most popular never-ratified amendment"!  Our letter further noted that it was a well-funded, undemocratic minority that was keen on restricting the freedom of over half the population of the U.S.
Linda McLeod (Branch immediate past President) led the discussion of the book, Suite Francaise, by Irène Némirovsky.  The Branch met March 25, 2023 for its regular luncheon, business, and book discussion.
Thanks to Sonia Hernandez (Finance Officer) for inviting members to a Cinco de Mayo luncheon (on May 1), at the Bay Area Unitarian Universalist Church.  Instead of margaritas, we were served traditional Mexican food & fruit drinks–as well as a well-received history lesson.  Thanks to Sonia for la comida deliciosa.
On April 28, members attended a book-signing of Col. (Retired) Eileen M. Collins's book Through the Glass Ceiling to the Stars, at the Nassau Bay Hilton.  Col. Collins is the first American woman to command a space mission.  Thanks to Delia Stephens for setting up this event.  This inspiring book has been donated to local public libraries by Branch members.
membership information for the Branch.
__________________________________________________________________________________________________